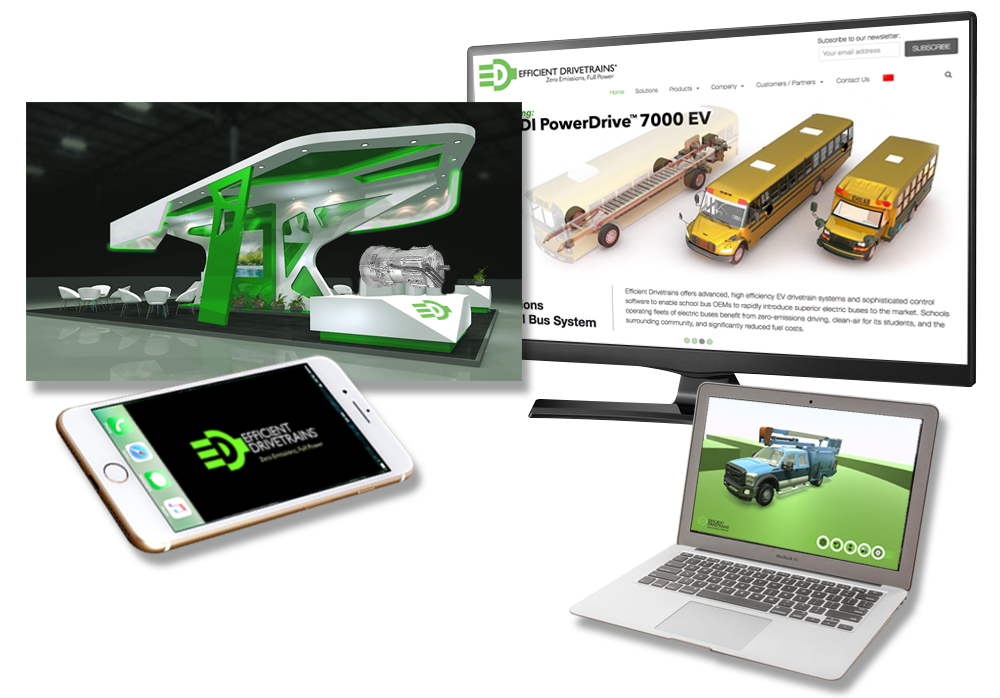 What core products or services does your company deliver? How do your core offerings fulfill a specific customer need? How does one find these products or services? How do they compare to your competition? By design, answers to these questions become the core of your marketing, your companies brand. Intentionally designed marketing and creative services can both support your agenda, and help you refine it. I turn great marketing ideas into real-world results.
"It takes a big idea to attract the attention of consumers and get them to buy your product. Unless your advertising contains a big idea, it will pass like a ship in the night. I doubt if more than one campaign in a hundred contains a big idea."
–David Ogilvy, CEO, Ogilvy & Mather Advertising Agency
The following are long-term marketing clients who have benefited from my full-service marketing efforts.
CLIENT: Efficient Drivetrains
PROJECT: Extensive marketing and design
MORE INFO: Click here to read the case study
Efficient Drivetrains provides a product line of premium commercial electric drivetrains. I have helped them with wide variety of marketing, promotion and product design, from internet presence, to user interface.
CLIENT: Mendocino Film Festival
PROJECT: Marketing & Creative Services
MORE INFO: Click here to read the case study
The Mendocino Film Festival is an annual event with a wide range of county-wide venues and events spread over a 4 day weekend. They were struggling with making ends meet, and needed help pushing sponsorship, membership and attendance to a point of break-even. I worked with another board member to change that in less than 6 months, with a combination of guerrilla and online marketing magic.
CLIENT: Atlas Peak Olive Oil
PROJECT: Extensive product design and marketing materials
MORE INFO: Click here to read the case study
Atlas Peak Olive Oil is a provider of organic Olive products, including jarred fruit and pressed oil. I have helped them manage their marketing and product packaging requirements.
CLIENT: Duke Empirical and Duke Extrusions
PROJECT: Product Development & Creative Services Support
MORE INFO: Click here to read the case study
Duke Empirical and its affiliate, Duke Extrusion, have been innovating and producing medical devices and extrusions out of their facility in Santa Cruz (and a new facility in silicon valley) for years. Me and my team have been helping him produce premium marketing , creative and produce design materials for much of their existence. From rendering their products to life from engineering CAD files, to translating those graphics into sell materials, we deliver so they can!
"Either write something worth reading or do something worth writing about."
–Benjamin Franklin
Marketing Design & Consultation
positions your company for growth and advancement