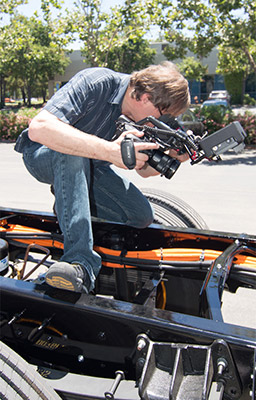 A camera can capture whatever is happening in front of you, or, it can be a window into the deeper soul of a company, product or ideology. Still photography to full 4K cinematography, I can capture your product or service with a unique eye.
"The camera is a basic mechanical device, but when coupled with human sensibility and vision, it becomes something quite different"
–Gaben Chancellor, cinematographer/ photographer
CLIENT: Efficient Drivetrains, Inc. (EDI)
PROJECT: Product Video
EDI provides an amazing line of support technology for electrifying commercial vehicles. This is one of many projects I completed for EDI over the last 15 years… for more information on EDI, take a look at their case study.
CLIENT: Daniel Steel and Machine, Inc.
PROJECT: Traincar Bridge Video
Daniel Steel wanted a video to both document the installation of a train car, and enable possible clients to get a flavor for their train car installation services and value. I have shot and editted several pieces for them over the years.
CLIENT: Duke Empirical
PROJECT: Series of web shorts
Rather than do a typical talking head video, Duke wanted a creative view into their manufacturing processes. This was one of 12 shorts produced in their clean room facilities.
CLIENT: Efficient Drivetrains, Inc.
PROJECT: Air Pollution Video
EDI asked that we produce a video which talks directly to the value that they provide to the world at large…U wrote and editted this combination of clip video, original video and animation which continues to be well recieved.
CLIENT: Starz Cupcakes
PROJECT: Movie Pre-Roll Commercial

As Starz is located directly across from a major cineplex, I realized that the best advertising they could pay for is on the big screen. The foot traffic generated from the new ads I shot and edited was astounding!
CLIENT: Zoran, Inc.
PROJECT: Connected Products Video
Zoran wanted to visualize the future… what would it look like and what would the user experience be as they began to grow into the "connected entertainment" world. I wrote, directed and edited this piece.
CLIENT: Mendocino Dance Project
PROJECT: Drift Short Film
Drift is a support video for an interactive dance series performed on stage by the Mendocino Dance Project. I shot about 50% of the footage for this piece.
CLIENT: Artstruct
PROJECT: Art and Woodworking: a Norcal Documentaseries
Artstruct is a custom woodworking company that I have been doing short documentary films for social media use. Eventually, a longer form documentary will result from a compilation of the shorter incremental video projects.
CLIENT: Unity For Foundation
PROJECT: Premiere Concert Video
I produced, shot and directed this promotional video for a new non-profit Charity Concert organization, Unity for Foundation.
CLIENT: ProArtStock
PROJECT: Macro Photography video of a rare Snowflake formation
It was after midnight in Truckee, CA, when we were walking home through the freezing temperatures (somewhere near 0 degrees at its worst!) toward our own cabin when we noticed something amazing. In the lights of the surrounding homes, we watched as a very light snow came down that was made up of the most amazing super-sized snowflakes we had ever seen! As a dedicated shooter I try to get things in the moment, and in this moment, I happened to have my great new Sony FS5 camera with a 100 mm macro lens, so I grabbed it and shot till my fingers started to fall off, my shivering making the shooting difficult…
CLIENT: Andersons Alternatives
PROJECT: Social Media Documentary Teaser 

With an active business and a downtown Mendocino location, the owner Nathan wanted to promote his business in an organic fashion, delivering content value while exposing the world to the magic of the local forest and its products. More chapters to come!
Videography & Photography
captures reality in its raw essence